Find Us for a Wonderful, Relaxing Respite...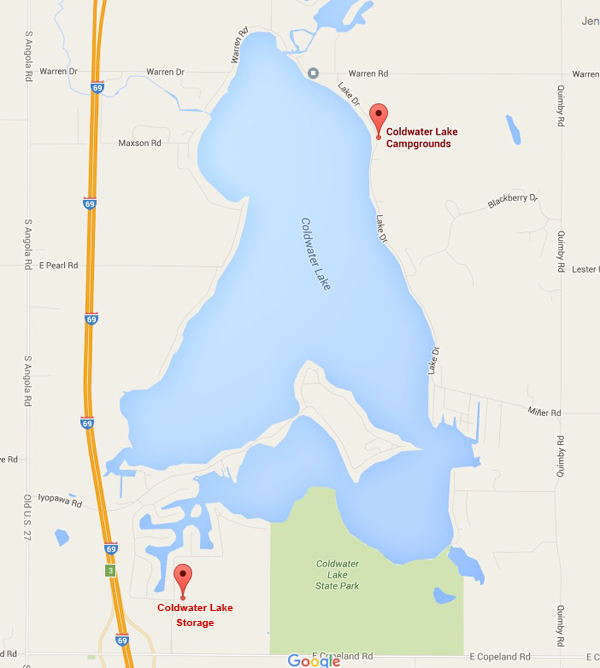 Coldwater Lake Campground
569 Lake Dr.
Coldwater Michigan, 49036 
Interactive Map to Coldwater Lake Campground 
 From the south: Interstate 69 
Take the COPELAND RD / KINDERHOOK exit 3 
Turn RIGHT (east) onto COPELAND RD. 
Go 1.5 miles (approx) Turn LEFT on Quimby RD. 
Take sharp turn to left at Miller Rd.
Follow as it curves right and turns in to Lake Dr.
Go approx. 1 mile and Crystal Beach Campground will be on the right!
From the north: Interstate 69
Take Fenn Rd. / exit 10 Turn LEFT (east) onto Fenn Rd. 
Go to stop sign and turn right onto Cenntenial Rd. 
Go approx. 2.5 miles till the stop sign with the lake in front of you.
Turn left onto Lake Dr. Go over bridge and road curves to left.
Then stay to the right when the road splits. 
Crystal Beach Campground will be on your left in approx. 1/2 mile. 
Coldwater Lake Storage 
793 Tomahawk Tr.
Coldwater Michigan, 49036 
Interactive Map to Coldwater Lake Storage  
From the south: Interstate 69 
Take the COPELAND RD / KINDERHOOK exit 3 
Turn RIGHT (east) onto COPELAND RD. 
Turn LEFT onto TOMAHAWK TRL E.  

From the north: Interstate 69 
Take the COPELAND RD / KINDERHOOK exit 3 
Turn LEFT (east) onto COPELAND RD. 
Turn LEFT onto TOMAHAWK TRL